Yogurt Mοusse in biscuit base with carob syrup, linseed, mandarin marmalade and peanuts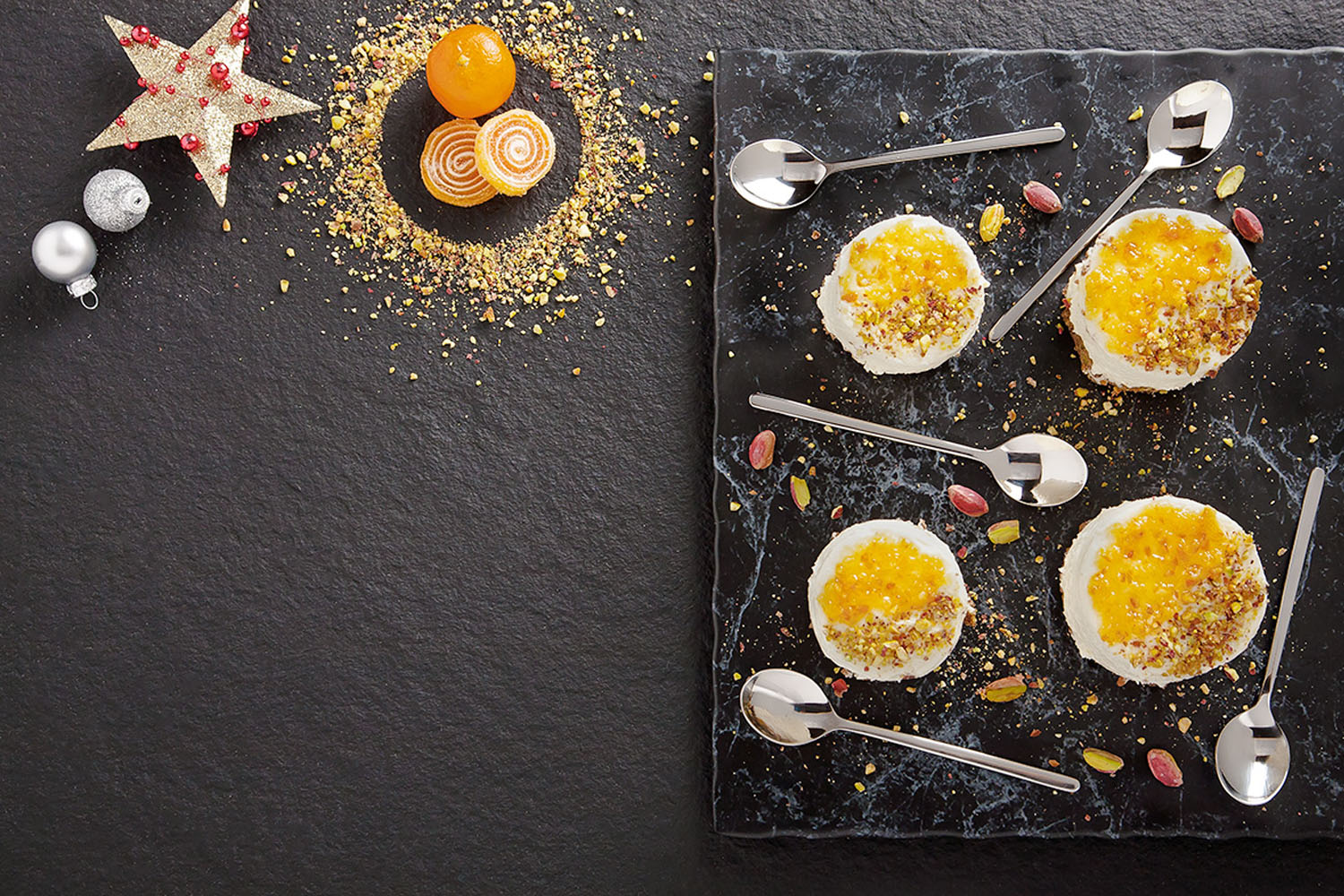 Directions
For the biscuit base:
In the mixer bin I drop the butter and the sugar and I hit until the butter is soaked for about 7 minutes. I add the flour, bran, grated peanutss and linseed, and the one egg, I keep hitting at low speed for 1 minute. I devide my dough into large pieces in a baking dish with non-stick paper and I bake at 160 degrees for 22 to 27 minutes. Then I let it cool and Ibreak it and mix it with the carob syrup. I put the biscuit mixture in a form and I press the mixture to the same thickness.
For the yoghurt mousse:
I melt in bain marie the white chocolate. Gently I mix the yoghurt until it gets a smooth shape, I pour the white chocolate into the yoghurt and I stir in rapid motion, and lastly I add the whipped cream with gentle motions to homogenize the mixture. I leave the mousse in the fridge for 1 hour to take its form. At the end I put it in the form with the biscuit and I leave it in the fridge for 3 to 4 hours to freeze.
For mandarin marmalade:
After leaving for two days the peels of mandarin  into water (that I change at regularly) to lose their bitter flavor, I blanch them 6 times in clean water each time. I cut the mandarin  in smaller pieces and Ι remove any pips. I put them in a pot with all the rest of the ingredients and I boil at low speed, until they are softened and if necessary Ι add a little water. Finally, I mash my mixture lightly and I let it cool down.I serve spreading the surface of the dessert.
Chef:
Konstantina Voulgari Kontesopoulou
Ingredients
FOR THE YOGURT MOUSSE

500

gr

Strained Yogurt 5% VERO CRETAN

500

gr

Melted white chocolate

600

gr

Whipped cream

FOR THE BISCUIT BASE

100

gr

Cereal - Wheat Bran

170

gr

butter

170

gr

sugar

100

gr

peanuts

100

gr

linseed

50

gr

carob flour

1

egg (optionally)

FOR THE MANDARIN MARMALADE

600

gr

mandarin peels

500

gr

sugar

200

gr

Mandarin Juice BIOXYM

100

gr

water
Equipment
Form
Baking dish
Bain marie