Tart with malaka cheese, staka and greens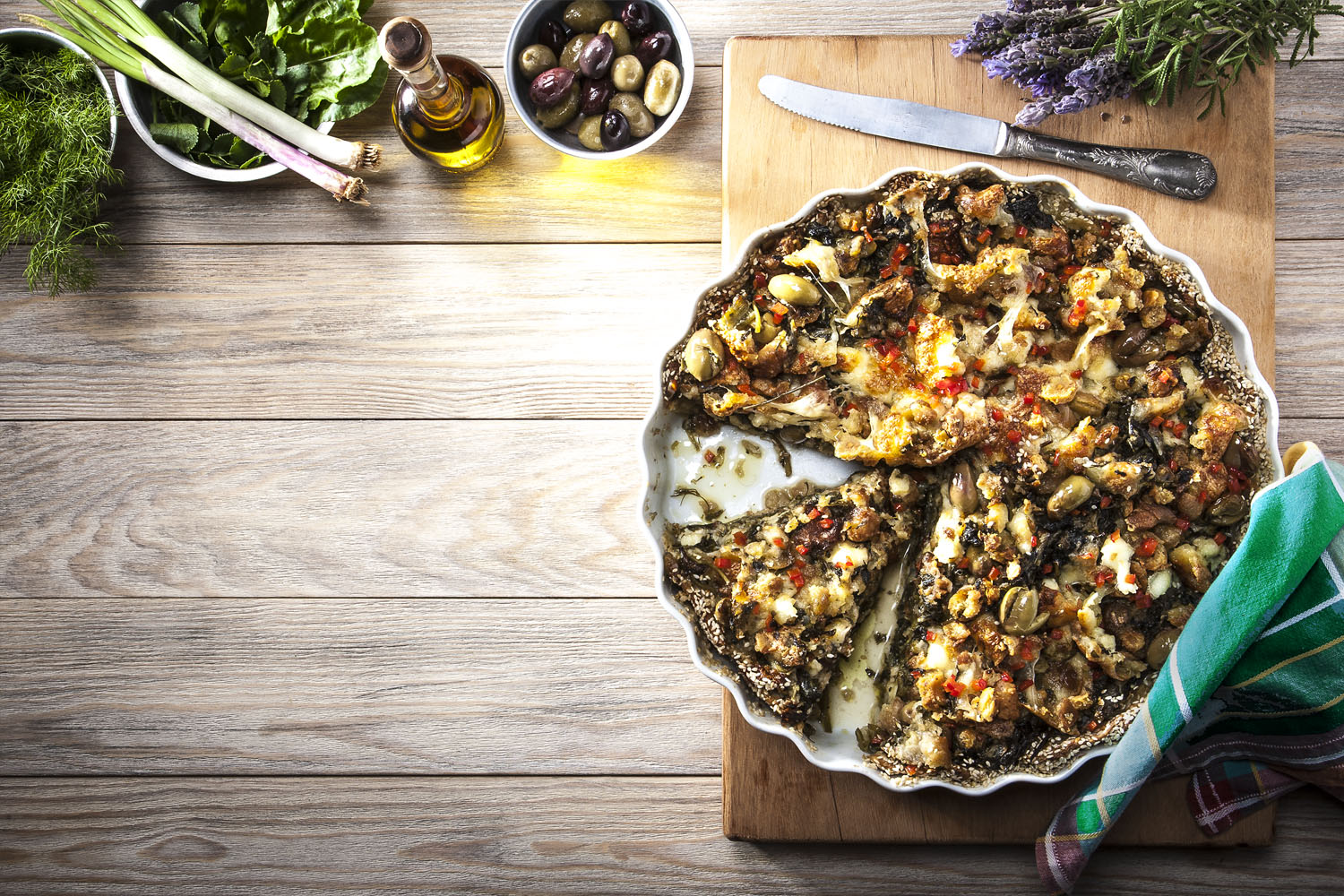 Directions
For the dough:
We mix all the ingredients together. If our dough looks too soft we can add some fine semolina of Mills of Crete.
For the filling:
We cook at moderate temperature all of our herbs first starting with the dried onion and garlic. We also add a few liquids, we cover the food and we dilute it in order to soften the greens. In the meantime, we add a little salt and fresh grated pepper.
The dough spreading:
In a porcelain tart form in which we have spread enough olive oil, we add plenty of white sesame seeds. We place our dough in the center and we spread it around and around the walls. Inside we add a small part of the malaka and the cooked staka. We prepeare the staka by puting it in a pot with a little water, salt and a few drops of lemon. We increase the temperature and we mix with an egg bitter. If its thickness is not satisfactory, we add some flour yet. Finally we add the frizzled greens without any liquids, the olives and the rest of the cheeses. We bake at 175 degrees Celsius in an oven for 35-40 minutes.
Ingredients
FOR THE DOUGH

1

tablespoon

salt

200

gr

Goat yogurt VERO CRETAN

1

yogurt bowl

Extra Virgin Olive Oil ABEA

FOR THE FILLING

1

bunch

chopped avronies (cretan herbs) in which we have removed the ''rich'' part

4

dry onions chopped in the middle in thin slices

3

bunches

fresh chopped garlics

3

bunches

fresh chopped onions

3

bunches

chopped fennel

6

bunches

spinach

6

garlic coarsely chopped

1

bunch

chopped chards

1500

gr

different kind of greens such as kaukalithres, agournopodia, melisochorto, petrokares, wild leeks, chopped in large pieces without their ''rich'' part

2

tablespoon

salt

Olive Oil ABEA (when we will saute them)

1

teaspoon

fresh black pepper

470

gr

green olives without their core

one red pepper, chopped in small cubes