27.01.2020
SCHOOL OF BAKERY – NOVEMBER PASTRY SEMINARS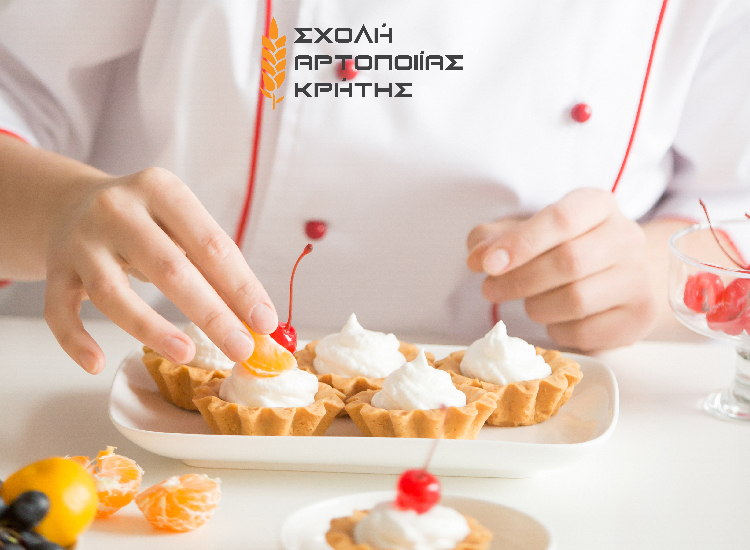 The KEK Technical Schools of Heraklion Chamber, with the support of MILLS OF CRETE, continues the successful organization of seminars on European Bakery. Our new seminar is about French bakery pastry and includes sweet and savory bakery preparations.
The seminar will be introduced by the acclaimed Master Pastry Baker Mrs. Lydia Steinbrich in collaboration with the baking instructors Mr Diamantis Papapanagis and Mr Antonis Alexandridis in the specially equipped bakery hall of our school.
To date, our seminars have been attended and trained by bakeries and pastry chefs from bakeries, pastry shops and food businesses throughout Crete.
The seminar is aimed at:
– Bakeries, artisans, confectioners, chefs and other professionals in the bakery, confectionery and food industries as well as
– to individuals who have basic knowledge of baking and want to enhance their skills in home baking.
The purpose of the seminar is to enrich the knowledge of bakers and pastry chefs, the recipes and showcases of bakeries / pastry shops with a wide range of products widely accepted, consumed and highly profitable. Through the interactive participation of trainees in the preparation and execution of recipes, traditional as well as modern baking techniques will be understood, as well as theoretical training.
Units:
– Day 1: Sweet pastries
– Day 2: Desserts and stuffings
– Day 3: Snacks
Duration:
2 three-day courses with a total duration of 18 teaching hours (3×6 hours) will be implemented
Days and Hours:
1st Group: Monday 10 to Wednesday 12 February 2020, 13.00-18.00
2nd Group: Thursday 13th to Saturday 15th February 2020, 13.00-18.00
Participation statements here